Yomogihira Hot Springs
They (Izumiya,Yomoyamakan,Fukubikiya) are located in mountainous area.
You can see beautiful rice terraces in Japan.
There's lots of health benefits of hot spring baths.
Especially, it's effective for skincare.
Koryu Shrine near hot springs is known as the shrine for thriving business.
The natural hot springs (onsen) in the town of Yomogihira first became popular after the building of Koryu Shrine in 1390. Visitors to the shrine would sometimes make use of the nearby hot-spring baths. Local residents would also visit the baths after a long, hard workday.

The area's first hot-spring inn, Yomogihira Onsen, opened in 1869, at the outset of the Meiji era (1868–1912). This was a time of great upheaval and modernization across the country. However, it was not until 1965, when a road first connected this area to Nagaoka, that the inn became known beyond nearby communities.

The waters of each hot spring in Japan are all slightly different in terms of mineral composition. As such, the purported effects vary from one location to another. The waters of Yomogihira Onsen are said to help improve and maintain skin condition. Proponents also believe they relieve stress and tension.
Of course, hot-spring baths are just part of the experiences to be savored in an onsen town. Here are a few other local highlights: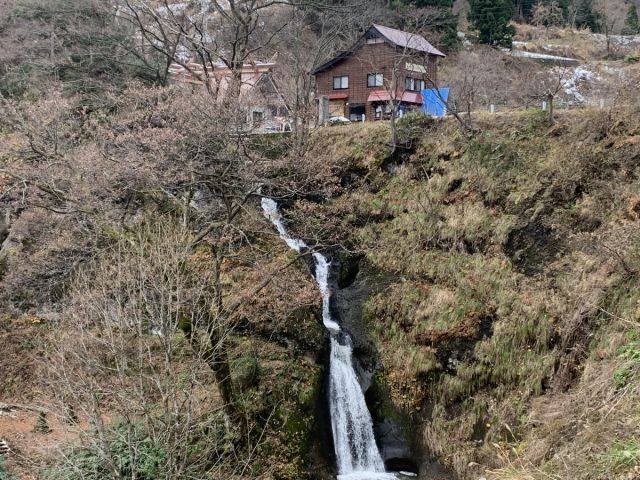 Take no Kochi Fudo Waterfall
People pray for the well-being of their family.
A short walk up the sloping road, behind Koryu Shrine, lies Take no Kochi Fudo Waterfall.

This local spot is famedv for its natural beauty.

From an elevation of about 10 meters, waters cascade down into the basin below, creating a backdrop of peace and tranquility.

The waterfall predates all the settlements and shrines that lie around it.

It is said to have provided inspiration to scholars and holy men over the centuries.