About Nagaoka
Nagaoka City which is located in the central part of Niigata Prefecture has the second largest population in the prefecture.
Tourist attractions and local gourmet foods are listed.

Please take a look when you come to Nagaoka.

What's Nagaoka?
It takes one and a half hours from Tokyo by Shinkansen.
Nagaoka is famous for producing rice.
Japanese sake is made by using rice and clean water flowing from the mountains. Because Nagaoka faces the sea, fresh seafood is landed.
If you come to Nagaoka, please visit Teradomari Fish Market Street.
Also,there are 16 sake breweries in Nagaoka, the largest number in Niigata Prefecture.

At Echigo Hillside Park, beautiful flowers such as tulips and roses bloom every season.
You can enjoy every season, such as summer illuminations and winter fireworks.

Nagaoka City Promotion Video
Nagaoka city council made YouTube video to introduce sightseeing spots and restaurants in Nagaoka.
Please enjoy the video!!

Introduction of Nagaoka
Nagaoka City is the 2nd largest city in Niigata.
One of the main features of Nagaoka is its food culture.
It has a variety of delicious food such as Sushi and Sake.
Please watch the video below.

Festival
Every year on August 2nd and 3rd, "Nagaoka Fireworks Festival" is held.
This is the most popular summer event in Nagaoka.
The fireworks launched from Japan's longest Shinano River attract about 1 million people from all over the world.
Since the year following the Nagaoka air raid on August 1st, 1945, it has been held every year with a wish for peace.

When it's spring, we recommend you to see cherry blossom at Yukyuzan Park.
There are 2,500 cherry trees lined up.
There are many stalls in the park, and it is a fun event to see and eat.

In the fall, the "Kome Hyappyo Festival" will be held to learn the history of Nagaoka.
One of the ways of thinking that has been passed down in Nagaoka City is the "spirit of the one hundred sacks".
In the past, there was a person in Nagaoka who sold valuable rice despite the times when there was little food to eat, built a school with the money gained from it, and explained the importance of education.
That idea is still passed on and is the basis of education in Nagaoka City.

"Echigo Momiji Festival" is also held and the trees dyed in red and yellow are illuminated and it is very beautiful.

Please check the date and time of the event before you come.

Food
Nagaoka's "Ginger soy sauce ramen" is recommended.
Soy sauce soup with ginger works well to warm your body.
It's so popular that you can line up at the store, so make sure you have enough time to go.

"Western style cutlet rice bowl" is also Nagaoka's original gourmet food.
A special sauce is applied to the pork cutlet.
There are two types of sauce, ketchup-based sauce and demiglace-based sauce, depending on the store.

It is also recommended to try Tochio's deep-fried tofu, which is said to be three times as large as the usual size.

There are also Nagaoka City original gourmet foods such as "Hegi Soba" and "Italian" in the city, so you can never hesitate about what to eat.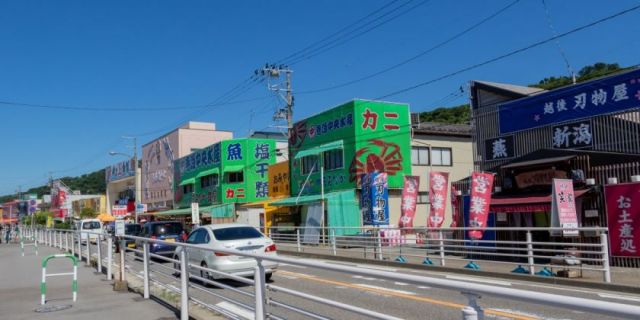 Teradomari Fish Market Street~Just like a "Fish Paradise"~
There are 11 kinds of shops including fishmongers and souvenir shops in the Fish Market Street.

This is a popular sightseeing spot in Nagaoka visited by 1.7 million people annually.

You can buy or eat fresh fish caught in Seaside Areas such as Teradomari or Izumozaki at a resonable price.

Grilled Fish on the spot called "Hamayaki" is so filling and tasty.

Miso Soup with crab's flavor and bony parts of fish called "Banya Soup" is also recommended!!

Museums & Nature
There are many museums and temples in the city.
The memorial museum of Tsuginosuke Kawai, who was active in Hokuetsu Boshin War, and the memorial museum of Isoroku Yamamoto, who conducted World War Ⅱ, are popular.
Ryokan's museum, an artist loved by people who loves to play with children for life, has books and songbooks on display.
At the time of Hokuetsu Boshin War, Kofuku-ji Temple, which was the home of the Nagaoka domain under Tsuginosuke Kawai, still remains.

History
Since 400 years ago, in Nagaoka, hard-working and leaders have been produced.

Tsuginosuke Kawai, who was called "Last Samurai", had excellent insight.
Applying the tactics of the revolutionary Napoleon, who is said to be a genius of battle, he has won many victories.
At that time he acquired two of the latest weapons, the Gatling gun, which was said to have only three in Japan.
Nagaoka clan had only 5,000 against 20,000 new government troops, but bravely confronted them. This is called Hokuetsu Boshin War.
In the devastated land of Nagaoka after the war, Kawai's childhood friend, Okujiro Mishima, struggled.
In addition, thanks to Torasaburo Kobayashi, who built a school for 100 hundred sacks of rice(*) and put the education first, the number of talented people continued to increase.
The spirit of 100 hundred sacks of rice, which strives to endure the pain of not being able to eat satisfactorily and to improve the future, continues to this day.

Isoroku Yamamoto were sent to diplomacy during World War II.
He prayed for world peace, and with the language skills he had studied at Harvard University in the United States, he gave a direct opinion to the United States and the United Kingdom.

Accommodations & Hot springs
There are business hotels, inns, hostels in Nagaoka City.
From private trips with family and friends to staying with a large number of people such as work and educational trips, we will meet various needs.

Please click the button below to download the related materials and call the facility you care about.

Yamakoshi Private Sauna
You can experience a private souna with a beautiful scenery of rice terraces.
Why don't you go and feel the nature of Yamakoshi ?
If you are interested in this private souna, please call and ask Yamakoshi Tourism Association.

Japanese Nationally Important Agricultural Heritage Systems —Rice and Carp Cultivation System Using Meltwater—
The Nagaoka-Ojiya "Birthplace of Nishikigoi" Revitalization Promotion Council, which is made up of citizens' groups from both cities, JA (Japan Agricultural Cooperatives), and various organizations dealing with nishikigoi (multi-colored ornamental carp), sent in a petition to have their Rice and Carp Cultivation System Using Meltwater recognized as a Japanese Nationally Important Agricultural Heritage System. The Ministry of Agriculture, Forestry and Fisheries certified the council's request in the 2016 fiscal year.
This certification signifies that this community's agricultural system, handed down continuously through the generations, of using terraced rice paddies and terraced ponds to cultivate rice and nishikigoi has been recognized to be representative of Japanese culture. This certification also has a deep connection with the citizens' pride and the development of regional brands.

Staff's Reccomendations from our FB
We'd like to introduce good sightseeing spots for foreigners with our Facebook Page.
<Hotokusan Inari Taisya>



<Teradomari Fish Market Street>



<Echigo Hillside Park>





<Momijien>


SNS
Check it out!
We write some post about Nagaoka tourism Information on our Facebook and Instagram.
Facebook

Instagram

Transportation
<Joetsu Shinkansen>
Nagaoka is easily accessible from Tokyo.
It takes one hour and 40 minutes.

From Osaka:5 hours and 30 minutes
From Kanazawa:3 hours and 40 minutes
From Nagoya:3 hours and 30 minutes
From Sendai:2 hours and 25 minutes
From Nagano:2 hours and 10 minutes
From Takasaki:55 minutes
Echigo Yuzawa:25 minutes (one hour and 20 minutes by Train)
From Niigata:25 minutes (one hour and 20 minutes by Train)

Address
<Nagaoka Incorporated Association of Tourism and Conventions>
Nagaoka Civic Center(2F) 2-2-6 Otedori,Nagaoka,Niigata 940-0062
Email:info@nagaoka-navi.or.jp

<Nagaoka Tourist Information Center>
2-794-4 Zyonaicho,Nagaoka,Niigata 940-0061
E-mail:eki@nagaoka-navi.or.jp